Northwest Motorcycle Classic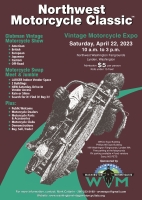 Lynden, Washington

Sponsored by Washington Vintage Motorcyclists Club
The event will be held at Northwest Washington Fairgrounds, 1775 Front Street in Lynden beginning at 10:00 am. General admission is $5.00. Vendor fee is $50.00 for a 10'X10' indoor stall. 12'x30' indoor drive-in spaces are available for roll-in starting 7 am on Saturday. The fee for drive in spaces are $75.00 and nust be reserved by April 1st. Exhibitors will set up from 12:00 pm to 8:00 pm on Friday. Bike sale stalls are $15.00 each. The event also includes a ventage motorcycle show with classes for American, British, European, Japanese, custom and off road. For more information call Mark Cattarin at (360) 223-3190 or email .