Motorcycle events in California
______________________________________
Our staff tries to provide the most accurate information possible, however we can not guarantee the information we publish is totally accurate. Sometimes the information we receive is inaccurate or has changed. We always recommend that you verify information before you attend.
______________________________________
07-20-2019

8:30 am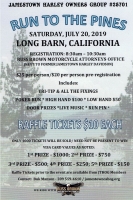 Jamestown, California
Sponsored by Jamestown Harley Owners Group
The ride starts at Russ Brown Motorcycle Attorneys Office, 18275 CA-108 in Jamestown. Registration is from 8:30 am to 10:30 am. The ride fee is $25.00 per person. Pre-registration fee is $20.00 per person. The fee includes a tri-tip meal and a run pin. The ride ends with...
07-28-2019

9:00 am
10-20-2019

8:00 am

Torrance, California
The ride starts at American Honda Motor Co., 1919 Torrance Boulevard in Torrance. Registration is from 8:00 am to 9:30 am and motorcycles go out at 10:00 am, rain or shine. The ride fee is $40.00 if you pre-register online or pay $45.00 on the day of the ride. Registration fee includes