Motorcycle Events in Louisiana
______________________________________
Our staff tries to provide the most accurate information possible, however we can not guarantee the information we publish is totally accurate. Sometimes the information we receive is inaccurate or has changed. We always recommend that you verify information before you attend.
______________________________________
04-27-2019

8:00 am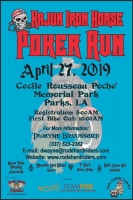 Parks, Louisiana
Sponsored by The Rode Hard Riders
The poker run starts at Cecile Rousseau Memorial Park, 1019 Periou Street in Parks. Registration starts at 8:00 am and motorcycles go out at 10:00 am. The ride includes 4 stops with games and auctions at each stop. The ride ends with live music, food and...