Motorcycle Events in Virginia
______________________________________
Our staff tries to provide the most accurate information possible, however we can not guarantee the information we publish is totally accurate. Sometimes the information we receive is inaccurate or has changed. We always recommend that you verify information before you attend.
______________________________________
04-27-2019

9:00 am
Churchville, Virginia
Sponsored by St. James UMC
The ride will start at St. James UMC, 3777 Churchville Avenue in Churchville. Meet at church at 9:00 am for coffee and fellowship. Motorcycles go out at 10:00 am. There are no fees or donations. The ride will include a stop at Goshen's Pass Overlook where...
07-20-2019

9:00 am
$25.00 for the rider and $10.00 for a passenger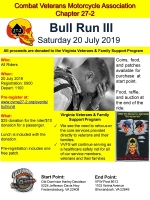 Fredericksburg, Virginia
The ride starts at Old Dominion Harley Davidson, 5224 Jefferson Davis Highway in Fredericksburg. Registration begins at 9:00 am and motorcycle s go out at 11:00 am. The ride fee is a donation of $25.00 for the rider and $10.00 for a passenger. The fee includes lunch. Those who...