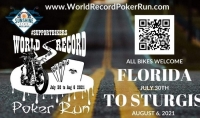 Port Charlotte, Florida
Sponsored by Sunshine State Biker Lawyer
The motorcycle poker run starts at Bert's Black Widow Harley Davidson®, 2224 El Jobean Road in Port Charlotte.Registration is open online until May31st. There is no registration after that date. The ride fee is $175.00 for lthe rider or $200.00 with a passenger. The fee includes a rider registration pack which will contain a t-shirt and other memorabilia. Once registered you will have access to discounted hotel offers for the various stops and a special offer for bike shipping company. Motorcycles go out on July 30th at 7:00 am. The poker run will set a new Guinness World Record as riders will travel from Florida to the Sturgis Motorcycle Rally between July 30 to August 6, 2021. The ride includes stops in Columbus, Georgia; Little Rock, Arkansas; Eureka Springs, Arkansas; Amarillo, Texas; Durango, Colorado; Golden, Colorado; and Cheyanne, Wyoming before ending in Sturgis, South Dakota on August 6th. The poker run will support Biker Down. For more information go to www.worldrecordpokerrun.com, or www.supportbikers.com.
---
BikerDown has been serving the motorcycle community by providing support to injured riders and their families. Using the collective power of the tight-knit community, BikerDown helps riders and their families get through potentially devastating times by providing emotional support, financial assistance, medical equipment and other services as needed. Motorcycle riders have huge hearts and we are constantly doing fundraising rides for each other to help with medical expenses. BikerDown maximizes the impact of their collective power to help their own. For more information about BikerDown go to http://bikerdown.org/.