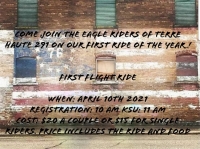 Terre Haute, Indiana
Sponsored by The Terre Haute Eagles
The ride starts at Terre Haute Eagles Aerie 291, 823 Poplar Street in Terre Haute. Registration begins at 10:00 am and motorcycles go out at 11:00 am. The ride fee is $15.00 for the rider or $20.00 with a passenger. The ride fee includes a ride and food. The Terre Haute Eagles is starting their Eagle Rider Group back up and they are hosting there first event for the riding season. All motorcycles are welcome. For more information call (812) 232-5550.