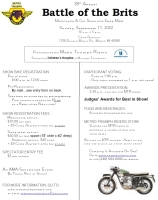 Milford, Michigan
Sponsored by The Metro Triumph Riders
The event takes place at Camp Dearborn, 1700 General Motors Road in Milford. There is an $5.00 fee per vehicle to enter the camp. The event is open from 10:00 am to 5:00 pm and includes a motorcycle show and swap meet. Bike show registration begins at 8:00 am. The fee to enter a motorcycle in the show is $10.00 plus the $5.00 camp entry fee. There are various classes including classes for cruisers and sport bikes with expert judges. Awards will be presented to winners including a award for best of show. Vendor spaces are $50.00 for the first space and $40.00 for additional spaces. Vendors must also pay a $5.00 camp entry fee. The event will also include food and more. This event helps support Children's Hospital of Michigan Foundation. For more information and to get an entry form, go to www.metrotriumphriders.com or email . On-site camping is available. Go to www.campdearborn.com. or call
(248) 684-6000 for more information.