Annual Phoenix Wounded Vet Run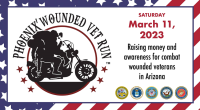 Scottsdale, Arizona
Sponsored by The Husband and Wife Law Team
The Escorted ride will start at Harley-Davidson® of Scottsdale, 15656 North Hayden Road in Scottsdale. Registration begins at 9:00 am and motorcycles go out at 12:00 pm. Breakfast is included before the ride. The ride fee is $25.00 for the rider or $40.00 with a passenger. The ride will end at the Roadrunner Restaurant and Saloon in New River. The Phoenix Wounded Vets Run is an event put on by They Fought We Ride and will be raising money and awareness for combat wounded veterans in Arizona. For more information go to www.theyfoughtweridenational.com, call (480) 878-0058 or email .
---
They Fought We Ride is a nonprofit organization raising money to support local combat veterans in Arizona. Their entire organization is run by volunteers who have dedicated their time and expertise in making the organization a success. They are passionate and devoted to supporting veterans and this cause.