Annual Harrisburg National Swapmeet and Motorcycle Show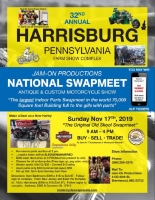 Harrisburg. Pennsylvania
Sponsored by Jam-On Productions
The event will take place at the Pennsylvania Farm Show Complex : 2300 N Cameron st Harrisburg beginning at 9:00 am. Admission is $15.00 for adults. Kids under 15 years of age will be admitted free. Early bird tickets are available for $20.00 which allows you to enter and begin shopping at 8:00 am. The event includes a swap meet, motorcycle show, clowns and face painting for the kids, and more.Someone will win a $300.00 door prize. The door prize drawing will begin at 3:00 pm. You must be present to win. The drawing will continue until there is a winner.
The motorcycle show will have classes for all bikes. There is no entry fee to enter your motorcycle. Trophies will be awarded to winners.
Vendor spaces are 10'x10'. Vendor fees are $30.00 if selling used parts only, $35.00 if selling a mix of new and used parts, and $50.00 for commercial space. There is a an extra $10.00 fee for end caps. The fees include admission for two people for the first space and one for each additional space rented. Vendor set up is Saturday from 2:00 pm to 9:00 pm and Sunday from 5:00 am to 8:00 am. Items that don't sell at your booth by 3:00 pm can be put it in the no reserve auction that has no seller fees.
For more information call (386) 206-5276 or go to www.motorcycleswapmeets.com.