Ride To Respond Poker Run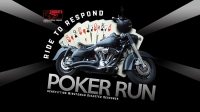 McKinney, Texas
Sponsored by Chuck's Automotive
The 100 mile ride starts at Chuck's Automotive, 409 McKinney Parkway in McKinney. Registration is from 8:00 am to 10:00 am. The ride fee is $50.00. Register by September 25th and get a $10.00 discount. The fee will include 1 poker scorecard, lunch and and a commemorative buff. Additional scorecards are available for $10.00 each. The poker run is a self-guided ride that travels through towns in Collin, Fannin and Hunt counties of North Texas. Prizes will be awarded for best and worst poker hands. Aards to winners will be presented at 1:30 pm and the riders do not have to be present to win.The ride benefits Minuteman Disaster Response. For more information got to http://RideToRespond.com, call (214) 585-2411 or email .
---
Minuteman Disaster Response is a 501(c)(3) charitable non-profit based in McKinney, TX and driven by volunteers serving Texas, Oklahoma, Arkansas and Louisiana in times of disaster. With a mission to "save lives and provide assistance in the immediate aftermath of a disaster", your support of the organization will enable them to respond before, during and after the next natural disaster in the region. For more information about Minuteman Disaster Response go to http://minutemanresponse.org.