Pine Valley Ride for Hope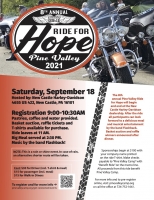 New Castle, Pennsylvania
Sponsored by New Castle Harley-Davidson®
The ride starts at New Castle Harley-Davidson, 4655 US-422 in New Castle. Registration is from 9:00 am to 10:30 am and motorcycles go out at 11:00 am, rain or shine. The ride fee is $30.00 for the rider and $15.00 for a passenger. Preregistration is available online. The ride fee includes a meal and t-shirt for the rider and meal for the passenger. The ride will go to Bend Overlook and return to New Castle. If it rains a shorter route will be taken. The ride ends with a delicious meal and musical entertainment by the band FlashBack. There will also be basket auctions, 50/50 drawing, and t-shirts for sale. The ride will benefit Pine Valley Camp. For more information go to https://pinevalleycamp.org/get-connected/events, call (724) 752-1661 or email .
---
Pine Valley Bible Camp began in November, 1961 to serve as a youth camp for the churches of Beaver and Lawrence Counties. Around 1988, that ministry ceased to exist and Pine Valley became a place for local churches to use as a rental facility. In May of 1995, the Lord called Matthew and Susan Reichart to Pine Valley to begin The Nehemiah Project, its partner ministry of providing residential camping to Pittsburgh's youth. The ministry has since expanded to include a variety of communities in and around Pittsburgh and even neighboring states. For more information about Pine Valley Camp go to https://pinevalleycamp.org.