Fort Thunder Harley-Davidson®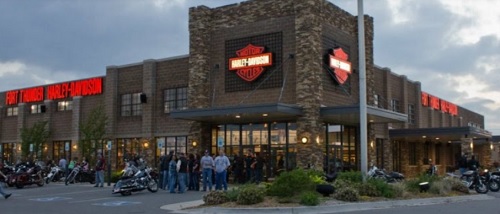 https://www.fortthunderharleydavidson.com/
Phone 405-793-8877
Fort Thunder Harley-Davidson® has been the cornerstone of the Oklahoma City metro area riding community since 2004. They are dedicated to expanding the Harley-Davidson® experience through local community involvement, fun events, and personal, friendly service.
Fort Thunder Harley-Davidson® has a large showroom with clean service and sales areas, staffed by experts in their fields. It's no wonder they quickly became known for being a pure Harley-Davidson® haven. The dealership continually strives to provide anything and everything associated with Harley-Davidson® motorcycles.
They have been the recipient of the Model Year Circle of Excellence Gold Bar & Shield Award, recognized by the Harley-Davidson® Motor Company and based upon evaluations of customer service and satisfaction, motorcycle and related product sales, skilled and knowledgeable staff, and facilities and other operational measurements. Over 700 dealerships were rated by Harley-Davidson®, using a predetermined set of criteria. Only the top 25 dealers in the nation were presented this most prestigious award. Loyal and satisfied customers have found that Fort Thunder is a step above the rest and Harley-Davidson® Motor Company itself has honored the dealership as the best dealership in the state.
500 SW 11th St, Moore, OK 73160, USA