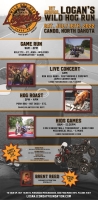 Wolford, North Dakota
Sponsored by Stutsman Harley-Davidson®, and Logan J Corday Chin & Grin Foundation
In Wolford the ride will start at Corrigidor Bar and Grill, 202 ND-17. There will also be starting locations in Rolette, St. John, Starweather and Cando. The ride begins at 8:00 am. The will be a game run with 3 to 5 person teams on motorcycles. The ride fee is $125.00 per team. Each team will play 5 games at 5 different locations, The best team wins 90% and the runner up will receive 10%. All teams must complete the ride in Cando by 2:00 pm. In the event of a tie there will be a run off event. At the end of the ride there willbe a 6 hour concert, raffle prizes and more. Top Prizes include a Harley-Davidson® Softail Heritage, a Harley-Davidson® Sportster, a Can Am 600 Ace Ryker and more. The event is a fundraiser for the Logan J Corday Chin & Grin Foundation. For more information go to www.loganjcordayfoundation.com, call (701) 230-7821, or email .
---
Logan J Corday Chin & Grin Foundation was established to continue in Logan Joe's spirit to touch the lives of those in need as he did at such a young age. They will focus on those struck by sudden tragedy and trade school grants for youth. For more information about the Logan J Corday Chin & Grin Foundation go to https://www.loganjcordayfoundation.com/