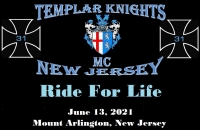 Mount Arlington, New Jersey
Sponsored by Templar Knights MC New Jersey
The ride starts at Lake Hopatcong Elks, 201 Howard Boulevard in Mount Arlington beginning at 9:00 am. The ride fee is $25.00 for the rider and $10.00 for a passenger. All motorcycles are welcome. The ride is to raise awareness of the overwhelming opiate problems which affect people of all walks of life in this world. Is is not only to remember those who have been taken from this world, but also to help those still fighting the hell of addiction. The ride ends with food, music, 50/50 drawing and more.