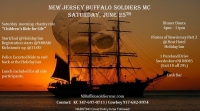 Swedesboro, New Jersey
Sponsored by New Jersey Buffalo Soldiers MC
The ride starts at Holiday Inn, 1 Pureland Drive in Swedesboro. Registration begins at 9:00 am and motorcycles go out at 11:00 am. The ride fee is $20.00 for the rider and $10.00 for a passenger. The fee includes lunch at the end of the ride. The police escorted ride will include a stop to lay a reef at the grave of a Buffalo soldier before returning for lunch, music and more. For more information go to njbuffalosoldiersmc.com, or call KC at (347) 697-0713 or Cowboy at (917) 628-8974.