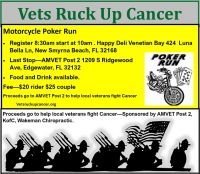 New Smyrna Beach, Florida
Sponsored by AMVET Post 2, KofC, and Wakeman Chiropractic
The poker run starts at Happy Deli Venetian Bay 424 Luna Bella Lane in New Smyrna Beach. Registration begins at 8:30 and motorcycles go out at 10:00 am. The ride fee is $20.00 for the rider or $25.00 with a passenger. Any donations will also be accepted. The ride will end in Edgewater with music. Food will be available. Proceeds go to AMVET Post 2 to help local veterans fight cancer. For more information go to https://www.vetsruckupcancer.org, or email .