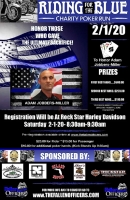 Fort Myers, Florida
The poker run starts at Rockstar Harley-Davidson®, 9501 Thunder Road in Fort Myers. Registration is from 8:00 am to 9:30 am. Motorcycles go out at 9:30 am. The ride fee is $20.00 for the rider and $15.00 for a passenger. Extra hands are $15.00 each. Pre-registration is available online. The ride ends with live music and more. $500.00 will be awarded for the best hand. $250.00 will be awarded for second best and $100.00 for third. Proceeds will benefit The Fallen Officers and the Robert L Zore Foundation. For more information email or go to www.thefallenofficers.com/ride-for-the-blue-charity-poker-run.
---
The Fallen Officers which supports the Robert L. Zore Foundation honorably supports the families and departments of police officers that have been killed in the line of duty across the United States.
Rosemary Zore was only 7 years old when she lost her father Robert L. Zore a Miami Police Officer on Christmas Day 1983. Rosemary always wanted to do something to not only honor her late father but to also help other families all over the country that have also lost a loved one in the line of duty.
Officer Robert L. Zore was killed in the line of duty on December 25, 1983. His life and legacy inspired his only child to create the Robert L. Zore Foundation and The Fallen Officers. Rosemary Zore believes that when a police officer gives his or her life for our community, the least we can do is to honor that ultimate sacrifice by caring for his or her family and children for the rest of theirs. The Robert L. Zore and Fallen Officers is a registered 501.3c not for profit organization which will host Blue Bowl co-ed flag football tournaments between police officers, former and Current NFL Players and local leaders around the country to raise money for the fallen officer's families. They also believe that these events "unite" the community with law enforcement to gain respect back for the law. We also support our foundation by holding annual events such as concerts, The Blues For The Blue and Boots For Badges and our National Mission 2244 Gala. They would like to have these concerts all over the country as well as our Blue Bowl's.
For more about The Fallen Officers go to https://www.thefallenofficers.com/