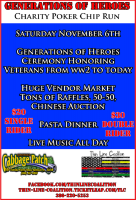 New Smyrna Beach, Florida
Sponsored by Thin Line Coalition
The ride starts at Sopotnick's Cabbage Patch Bar, 549 Tomoka Farms Road in New Smyrna Beach. Registration begins at 9:00 am with coffee. Motorcycles go out at 10:30 am. Vendors open at 8:30 am. The ride fee is $20.00 for the rider or $30.00 with a passenger. Online registration is available. The first 100 to sign up will receive a gift from Thin Line Coalition. The ride includes 2 additional stops and ends with winners announced for the Chinese Auction, a Generations of Heroes Ceremony, poker chip run winners, raffles, a spaghetti dinner, music, 50/50 drawing and more. The ride will be celebrating and honoring military heroes from WW2 to today's field of battle. The ride is a fundraiser for The Joseph F.X. Rooney Veterans Retreat. For more information go to https://thinlinecoalition.org, call (386) 220-5253 or email .
---
The Joseph F.X. Rooney Veterans Retreat is looking to raise money to buy land, build a beautiful retreat for combat veterans, first responders and their families. This retreat will have all of the amenities such as camping, water sports, archery, hiking, confidence courses, various crafting, entertainment, boating, cooking, fishing, karaoke, biking, socializing and more. The purpose of this Retreat is simple, to give combat inflicted veterans the much needed time to reconnect, bond, and create positive memories with their family and reinforce the knowledge that they are loved, and an important part of our community. This retreat would be absolutely free to veterans. For more information about The Joseph F.X. Rooney Veterans Retreat go to https://thinlinecoalition.org/joseph-f_x_rooney-veterans-retreat.