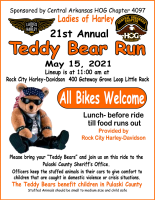 Little Rock, Arkansas
Sponsored by H.O.G. Chapter 4097 Ladies of Harley
The ride starts at Rock City Harley-Davidson®, 400 Gateway Grove loop in Little Rock. Lineup is at 11:00 am. Lunch will be served before the ride while the food lasts. please bring small to medium sized, child safe, stuffed animals to be donated to the Pulaski County Sheriff's Office to benefit the children in Pulaski County. Officers keep the stuffed animals in their cars to give comfort to children that are caught in domestic violence or crisis situations. The ride will deliver the stuffed animals to the Sheriff's Office.