Motorcycle Events in Alberta
______________________________________
Our staff tries to provide the most accurate information possible, however we can not guarantee the information we publish is totally accurate. Sometimes the information we receive is inaccurate or has changed. We always recommend that you verify information before you attend.
______________________________________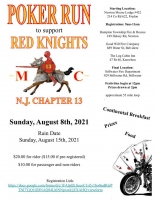 Newton, New Jersey
This event has been canceled. Please contact event organizer for additional information.
Sponsored by Red Knights MC NJ Chapter 13
The ride starts at Newton Moose Lodge #432, 214 County Road 622 in Fredon. Registration is from 9:00 am to 11:00 am. The ride fee for the rider is $15.00 if preregistered. On the day of the ride the fee is $20.00 for the rider and $10.00 for a passenger. The ride starts with a continental breakfast. The 55 mile route will go through the beautiful... [Read More]