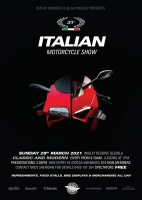 Glenelg North, South Australia
Sponsored by Ducati Owners Club of South Australia
The motorcycle show will take place at Wigley Reserve, at the Corner of Anzac Highway and Adelphi Terrace in Glenelg. Bike show entry begins at 9:30 am. The entry fee is $5.00 for D.O.C.S.A. members or $10.00 for non-members. There are a number of classes for Ducati Owners and other Italian Marques with a guest judge choosing the winners and runners-up in each class. Classic and modern bikes may enter. Judging begins at 1:00 pm and awards will be given at 3:30 pm. The event will also include food stalls, bike displays, merchandise and more. For more information go to https://www.docsa.com.au or call Greg Sheridan at 0459 197 264.