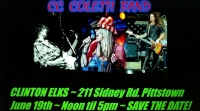 Pittstown, New Jersey
The ride starts at Clinton Elk's Lodge, 211 Sidney Road in Pittstown. Registration begins at 9:00 am and motorcycles go out at 10:00 am. Coffee and bagels will be served during registration. The ride fee is $20.00 for the rider and $10.00 for a passenger. The fee includes admission to the afternoon concert. The 2 hour escorted ride will go through the rolling countryside. The ride ends at noon with live entertainment provided all afternoon under the huge outdoor pavilion. There will be a staffed kitchen ready to serve you from noon until 5:00 pm. All proceeds go to the Calais Foundation to help pay for the important life skills programs at The Calais School in Whippany, NJ. For more information call (2010 838-4466 or email .
---
The Calais Foundation is a 501(c)(3) non­‐profit organization with a mission to empower children with serious learning disabilities and socialization challenges to reach their fullest potential in life. For more information about The Calais Foundation go to https://calaisfoundation.org/.