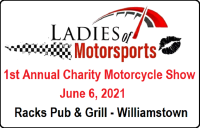 Williamstown, New Jersey
Sponsored by Ladies of Motorsports Magazine
The motorcycle show will be held at Racks Pub & Grill, 2021 N Black Horse Pike in Williamstown. Registration begins at 10:00 am and the show starts at 11:00 am. Entry to the bike show is $10.00 per bike. Any year and style of motorcycle is welcome. Awards will be presented for best of show, first runner up, second runner up, third runner up and fourth runner up. Each motorcycle gets a custom judging ribbon. Judging will begin at 1:30 pm and awards will be presented at 2:00 pm. In case of rain the event will be rescheduled for Sunday, June 13, 2021. Proceeds will benefit an organization for emotional abuse awareness and Peaceful Tomorrows, a shelter program for those who are rebuilding after abuse. For more information or to register in advance email .