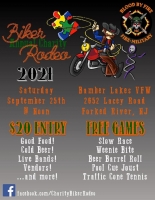 Forked River, New Jersey
Sponsored by Blood by Fire MC
The motorcycle rodeo will take place at Bamber Lakes VFW, 2652 Lacey Road in Forked River. Gates open at 12:00 pm. There is a $20.00 entry fee for the event and entry into the games is free. Games will include a slow race, weenie bite, beer barrel roll, pool cue joust, and traffic cone tennis. The event will also include food, bands, vendors and more. For more information email .