Rt 66 Mother Road Ride Rally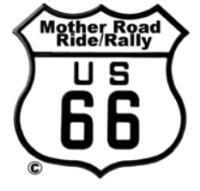 Willowbrook, Illinois

Sponsored by Ride RT66 LLC
The ride starts at La Quinta Inn, 855 79th Street in Willowbrook. Motorcycles go out at 6:00 am on June 9th. Please register in advance on the website. All bikes are welcome. The ride will follow Route 66, averaging about 210 miles per day and ending in Santa Monica, California on June 21st.The ride includes Route 66 museums, the Ozark trail, original red brick pavement road, Painted Desert and Petrified Forest National Park, the ghost town of Oatman, Rim of the world highway and more. The ride will end with an awards dinner in Santa Monica, California. You don't have to ride the whole 2,448 miles. This is an annual event so you can cover different segments each year. For more information call (352) 684-5293, email , or go to www.ridert66.com.