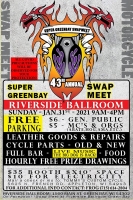 Green Bay, Wisconsin
Sponsored by Tommy's Custom Cycle
The motorcycle swap meet will be held at Riverside Ballroom, 1560 Main Street in Green Bay. Doors open for the public at 9:00 am. Admission is $6.00 for the general public. Members of motorcycle clubs and organizations will be admitted for $5.00. Children under 8 years of age and seniors over 65 will be admitted free. All disabled veterans will also be admitted free. Vendor fee is $35.00 for a 8X10 space. Early bird vendors can purchase space before January 7th for $25.00. Electricity for vendors is an additional $10.00. The swap meet will include older and new parts for all makes and models. The event will also include live music, food, door prizes and more. For more information call (715) 614-2804 or email ..