Frank's Ride for Children Annual Poker Run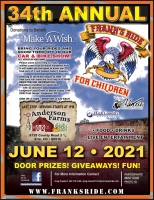 Longmont, Colorado
Sponsored by Make a Wish Foundation of Colorado
The ride starts at the Longmont Loyal Order of Moose Lodge 1548, 2200 Pratt Street in Longmont.Registration begins at 8:00 am and a bike blessing will take place at 9:00 am. Breakfast will be available during registration for a $5.00 donation. The fee for the poker run is $20.00 per person. Online registration is available. All participants must have a phoito ID. The ride will end in Erie with food, live entertainment, bike games, car and bike show, raffles and more.The poker run will benefit the Make a Wish foundation of Colorado.For more information go to www.franksride.com.
---
Make-A-Wish® Colorado began in 1983 in memory of 7-year-old Jennifer Mazak. Although Jennifer did not receive a formal wish, she wanted to see the KIMN Chicken, a local radio mascot. When the KIMN Chicken was told of Jennifer's wish, he came to visit her at her home. While Jennifer's appearance had prompted teasing and stares from neighborhood children, she was the envy of them all when the KIMN Chicken hugged and held her and lavished attention on her alone. With the help of friends, family and members of the community, her mother, Joan, founded the Colorado chapter of Make-A-Wish shortly after Jennifer passed away, to bring that same magic to other children. Everyone at Make-A-Wish® Colorado are reminded of Jennifer's smiles each time they fulfill a wish. Founded in 1983 as one of the nation's first Make-A-Wish Foundation chapters, Make-A-Wish Colorado has granted more than 5,500 wishes to eligible children throughout Colorado. Its mission is to create life-changing wishes for children with critical illnesses. For more information about Make-A-Wish® Colorado go to https://wish.org/colorado.