Thumpers Holiday Charity Run For Turning Point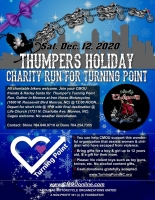 Matthews, North Carolina
Sponsored by Carolina Motorcycle Orginizations United
The ride starts at Independence Harley-Davidson, 9205 E Independence Boulevard in Matthews. Registration begins at 12:00 pm and the short ride goes out at 1:00 pm. The ride will not be canceled due to bad weather. Participants are asked to bring gifts for a boy and a girl up to 12 years old,teens, and a gift for their mom. Please do not bring violent toys such as toy guns, knives, etc. Cash donations will also be gratefully accepted. This is a charity ride to support Turning Point. The ride will end in Monroe. You can help Carolina Motorcycle Orginizations United support this wonderful organization that assists women and children who have escaped from violence. For more information call Shine at (704) 840-9710, Dano at (704) 254-7355 or email .
---
Turning Point's vision is that all people will have safe and healthy relationships, free from domestic abuse, sexual assault, and child abuse in their homes, schools, workplaces, and communities. Turning Point exists to end domestic abuse, sexual assault, and child abuse through safe shelter, advocacy, prevention, and social change. For more information about Turning Point go to www.turningpointnc.org.