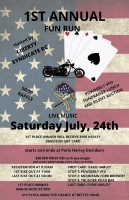 Paris, Texas
Sponsored by Liberty Syndicate RC
The ride starts at Paris Harley-Davidson, 2875 NE Loop 286 in Paris. Registration begins at 9:30 am. The first motorcycle goes out at11:00 am and the last motorcycle goes out by 12:00 pm. The ride fee is $30.00 for the rider or $35.00 with a passenger. The ride fee includes lunch. Registration is available online. An extra draw will be available for $10.00. The ride will include three stops before ending in Paris. Lunch will be provided at the first stop. The ride ends with live music, 50/50 drawing and food vendors. A $100.00 Harley-Davidson® gift card will be awarded for the best hand. Proceeds will support Powderly Volunteer Fire Department. For more information email .
---
The Powderly Volunteer Fire Department was organized in 1964 with a single truck and a hand full of dedicated volunteers. Since that time the Powderly Fire Department has grown with the help of the community. Currently Powderly has a single station centrally located just off 271 North and adjacent to Aaron Parker Elementary School. For more information about The Powderly Volunteer Fire Department go to https://www.powderlyvfd.com/.