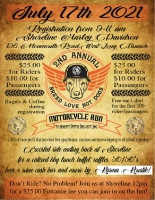 West Long Branch, New Jersey
The ride begins at Shore Line Harley Davidson®, 136 Monmouth Road in West Long Branch. Registration is from 9:00 am to 11:00 am. The ride fee is $25.00 for the rider and $10.00 for a passenger. Bagels and coffee will be served during registration. T-shirts will be given to the first 100 riders. The escorted ride ends in West Long Branch with food, reffles, 50/50 drawings, music and more. Proceeds will benefit Pittie Project, Inc.. For more information go to https://www.thepittie.com/events/breed-love-not-dogs-mcrun, call (732) 278-4201 or email .
---
The Pittie Project, Inc. is a non-profit program that provides spay/neuter, vaccines and microchipping to anyone that owns a pitbull type dog, to decrease the amount of pitbull type dogs in shelters and being euthanized every year. For more information about The Pittie Project, Inc. go to https://www.thepittie.com/.