Add a Classified Advertisement
Finding Heaven on a Harley
Who would ever have thought that a simple conversation over a paint job would end up with a wedding that not only family & friends, but also included ….Harley Davidsons?
The first time I met Bill was at bike night, at Hooters in Clarksville, Tennessee a few years ago. I'd just purchased my first bike, a 2002 Dyna Super Glide Sport. I'd experienced some emotional trauma and knew that I had to do something… I'd always loved riding and decided it was time for me to get my own Harley. Purchasing that bike was like a life saver, riding that bike brought life back to me when ever I rode her. In my eyes it was the most beautiful bike ever built - that was at least until I met Bill and his Springer. I love things that are shinny and sparkly and when I spotted Bill's Springer with its Kandy green paint and gold marbleized inserts with green flames that had more sparkles than any paint I had ever seen…. I simply had to meet him and question him about his paint job.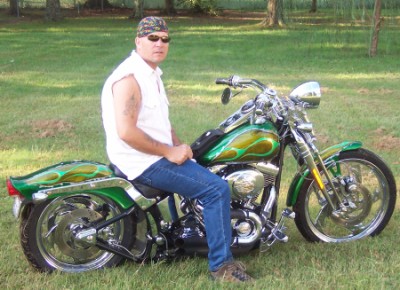 Bill informed me that he had painted the bike himself and that when he wasn't protecting America (he is a First Sergeant in the Army) he was painting bikes out in his shop. From there -the rest is like a fairytale.
We started talking and hit it off right away. Before the night was over I had contracted him to paint my bike. There was a toy run coming up in a few weeks at Ft. Campbell and we decided it would be cool to go make it a 'bike date' and go on the ride together. I jokingly teased Bill that his bike would get more attention then mine because of his paint job. Bill, (wanting to impress me I'm sure), decided he really wanted to put some 'bling' on my bike for me prior to the run. It was hard for me to part with my bike for that long of a period of time - but my desire for sparkles took over and I took my beloved Sport named Dancin Dori the Dyna glide ~ Dori for short (you know how we girls like to name things!) to his shop in Woodlawn, TN, and entrusted Bill to modify my beloved bike.
I lived in Nashville, 1 ˝ hours away from Woodlawn - so I wasn't able to check on the progress of my bike, but thru email and telephone calls Bill kept me updated as to the transformation of my "Dori Dori".
We discussed what I thought I would like and I told him I liked red and sparkles and I would love floor boards because I learned to ride on a Fat boy and I was more comfortable with floor boards. Other than that I told him to surprise me and boy did he! The Thursday before the Toy Run Bill showed up at my doorstep with my bike on the trailer behind his Jeep.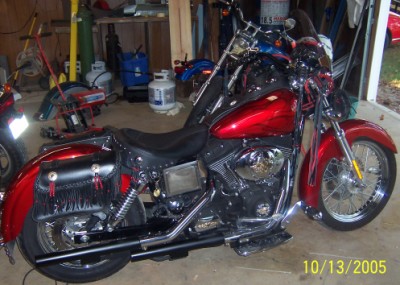 I was speechless when he showed me the bike. It was far more than I had imagined! Not only was the paintjob incredible - with its Kandy red and flames with dancing sparkles all over (he put red micro flake over the whole paint job)… he had gone so far as to paint my helmet to match my bike. (Even girl bikers like to be fashion conscious!)
You could tell Bill had put a great many hours of sweat and love into the bike, (the love part I discovered later!). I thought I was just getting a paint job but when I saw the bike I knew I'd gotten much more! I not only got a fabulous paint job, somehow he included a custom exhaust, red braided hoses and lines, new mirrors and windshield, custom grips, a new seat, chrome everywhere, two new fenders (which I found out later he had cut the front fender himself out of a blank and for the rear he welded up all the stock holes and reshaped the fender and rolled it back about eight inches from its original position) - all of which took a lot of extra work! He relocated my turn signals and added a mud flap (with red rhinestones!) giving my bike a completely different look. I swore I was not looking at the same bike I had dropped of two weeks prior. I was completely blown away. Who ever said that diamonds are a girl's best friend? Give me my Harley! I think bill knew this was the way to my heart!
We went on the Toy Run together - and have been side by side ever since. I never imagined something as simple as a paint job would put me with my soul mate. We rode together every chance possible, even in the coldest of weather we would meet half way between Nashville and Clarksville to ride. The more we rode the stronger our love grew.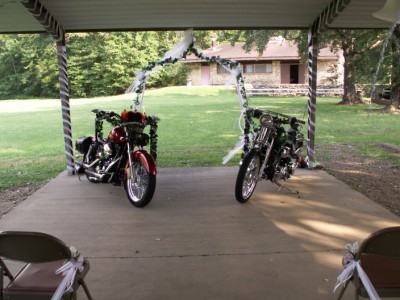 On August 19, 2006 we got married - the happiest day of our lives. We had our family, friends….. and our Harleys there. We were married outside - and as part of the decorations for the ceremony - were both of our Harleys. My Dori was on the 'brides' side, and Bills Springer was on the "Grooms" side. Both bikes were decorated with flowers and greenery over their handlebars and gas tanks.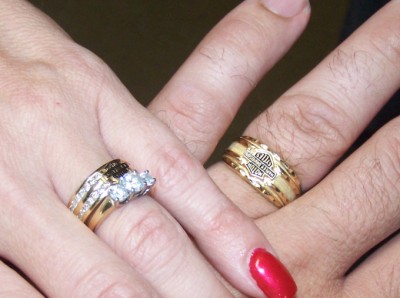 After the ceremony the minister read a short statement that stated "these two met on the road traveling two separate paths: please make way as they join together as one on the road for a wonderful life together"! then we fired up our bikes and rode down the aisle.
I had once jokingly mentioned to Bill that we should ride out on our separate bikes as Mr. and Mrs. William Endsley, rather than being traditional and walking down the aisle. Bill absolutely loved the idea - and that became part of our plan.
Unfortunately, I had broken my foot a month before the wedding and was still in a walking boot, but we didn't let that stop our plans ~ we just had to alter them a little.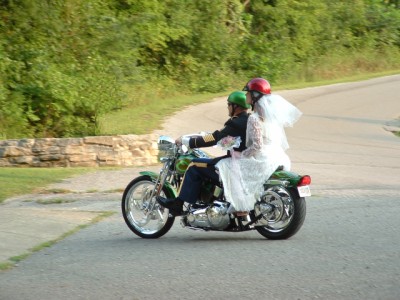 I had to ride out with Bill on his Springer - helmets and all (even with my veil on)….but we still rode down the aisle on a Harley.
Once we got onto the main road we stopped and all of our fellow biker friends got on their bikes and followed us with honking horns and flashing lights while we went on a short ride to the reception hall.
When we look at our wedding pictures and see the motorcycles as part of the ceremony - it looks 'normal' to us - like all weddings should have Harleys up front as part of the decorations and setting.
I initially wasn't real excited about exiting the ceremony on the bikes -(my mentioning it was just a joke at first) afraid that my dress would get caught in the spokes, or that the pipes would scare people, and just the fact that it was 'really different and out of the norm' but I figured the bikes brought us together so they had to be part of the ceremony……
Since the wedding everyone has said (especially the non-bikers) how cool it was of us to ride out on the Harley. That part of the wedding has become one of our best memories. Several of our non biker friends have said that they too need to get a Harley! So everyone out there thinking of maybe adding their bikes to their wedding I highly encourage it!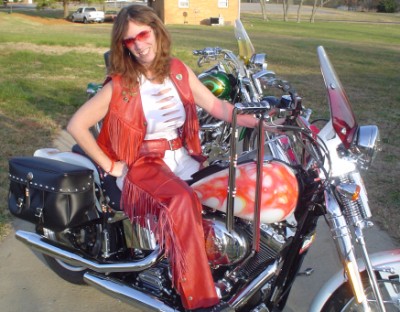 Since August 19 - I am happy to report that I am out of my walking boot and back on my own bike riding beside Bill as we travel the countryside. However, I am now riding "Pearl", (yes - I name all of our vehicles!) a 2006 Springer that we bought in September, (which yes, Bill has already bedazzled for me with pearl white paint and red flames).
Bill is soon to be retiring from the Army and will be working full time in the shop working on bikes. If you are ever traveling thru this area (we are just 5 miles out of Clarksville on Hwy 79 about 25 miles from Land Between the Lakes - perfect area for bikers) - we would love to have you stop by and see our shop and trade bike stories (and I of course can show you more wedding pictures!).
Jill Endsley - Woodlawn, Tennessee
---
Whistle Stop Café
There is a little town north of Macon, Ga. that is the setting of the movie Fried Green Tomatoes. Juliette, Ga. has become a favorite place for bikers to ride to on a Sunday afternoon to eat dinner. I have been hearing about bikers riding to this small community for the last three or four years. I thought it was time that I rode down to check this café out for myself and eat some fried green tomatoes and B.B.Q. This café is only open on Sunday for people to come and eat.
I like to start my ride on the square in Eatonton, Ga. because there is a small log cabin museum not far from the center of town that honors Joel Chandler Harris, the author of the tales that Uncle Remus told. The Museum is set on the site of the birthplace Joseph Sidney Turner. He is the character that "Uncle Remus" of the Uncle Remus' Tales is base on. When I was a young boy I enjoyed the stories of Brer Rabbit and his misadventures.
After a visit to the museum I like to ride west from Eatonton, Ga. on Hwy. 16 to Monticello, Ga. I just like to stop for a few minutes on the square of Eatonton just because it was the setting of my favorite movie My Cousin Vinny. Then I ride on to Jackson, Ga. and turn left on to Hwy. 23 to Indian Springs
I always like to stop at Indian Springs State Park for a cool drink of spring water just like the Creek Indians did centuries ago. This is an excellent and relaxing rest stop before I arrive at Juliette. Indian Springs is located twenty miles north of Juliette, Ga. near Flovilla, Ga. on Hwy. 42. The Indians thought the spring water had the power to heal the sick and give you vigor. During the 1800's the area around the springs served as a resort for many visitors to come and rest. Indian Springs is considered one of the oldest state parks in the United States. Now it is a safe haven for the bikers to rest at the end of the day. If I am riding in this area I use this park as my starting point for my ride. It is also a great place to stay for the night. After resting and a cool drink of water from the spring. I climb back on my bike and head toward the Whistle Stop Café for lunch.
After I ride for about 20 minutes to Juliette, I turn left off of Hwy. 23 onto Juliette Rd. and make a right turn onto McCrackin St. Down at the end of town on the left side of the street sets the Whistle Stop Café. It was just like stepping into the movie and you could almost see the characters coming down the street. The trains still run along the side the Ocmulgee River, but the old train engines have long gone.
I don#'t understand what draws bikers to ride to this small town except for the food and the awesome ride through the countryside. Bikers also walk around the town and visit small shops after their meal. Some have pictures taken at certain points that they remembered from the movie. Some bikers like to walk across the dam which has water running over the top. Looking from the bridge it looks as if they are walking across on top of the water. One day I will be brave enough to make the trip to the other side of the dam.
You can find on any given Sunday bikers from Atlanta to Augusta, Ga. and as far south as Waycross, Ga. riding their bikes into town. It is one of the places in the state you can meet riders from all over the state of Georgia. I have counted more than one hundred bikes coming in town during the time I was having my meal. H.O.G. groups from all over the state call the café and makes reservations for thirty or more riders to eat.
I finally got to meet the owner of the Whistle Stop Café, Elizabeth Bryant. I also found out that her children help at the café waiting on tables. I found this restaurant is a great place to ride your bike to on Sunday afternoon. Juliette, Ga. is a great place to find some awesome food and to take a walking tour of the town after your meal. Then I head out to the Jarrell Plantation to visit a quaint southern plantation.
The Jarrell Plantation is near Juliette, Ga. and is another place I like to visit during the afternoon. It is just a ten mile or less ride to this Georgia plantation. It is a step back into the 1850's. The Plantation once covered 1000 acres and contained a sawmill, gristmill, cotton gin and a shingle mill. This plantation was owned and operated by the Jarrell family for more than 140 years. This cotton plantation survived General Sherman's "March to the Sea,'' Emancipation, Reconstruction and the cotton boll weevil. In 1974, his descendants donated these buildings to establish the Jarrell Plantation State as a Historic Site. Now it is a state park for everyone to visit and to look back into the past.
After a day of riding, eating and touring the Jarrell plantation. I locked my bike on Hwy. 44 and headed home. Forty-four is the shortest and fastest route home. When I ride I let the time slip by until I have to ride hard to get home before midnight. This is one of the trips I like to take at least once or twice a year for the fried green tomatoes and the B.B.Q. and the scenic ride through the national forest. If you are ever riding your bike in the Macon, Ga. area on a Sunday afternoon, stop by the Whistle Stop Café. I hope to take your picture next time.
Tommy Pittard - Calhoun Falls, South Carolina
---
A Ride Through Oz
We are living and working in the Middle East, Kuwait exactly, and the opportunity to ride a bike here is not for the faint of heart. Even Red Adaire the famed oil well fire fighter who once exclaimed when asked what he feared most working here; he answered "the driving to work". So this should tell you why I have not ventured to ride a bike here.
So, when a trip to Australia (Oz) presented itself, I hooked up with a Bike touring company called Bike Around Oz. They had canned itineraries that could be accomplished with a guide or on your own. Being the adventuresome person that I am, I chose to go it alone, well not completely; my new wife was to join me. We rented the biggest bike they had, which was a 2004 Harley Soft Tail. Not having owned or ridden a Harley much (I am a Yamaha Road Star driver in the States), I thought this would be a good opportunity to check one out. By the way, for those interested, Australia is called Oz which is an abbreviation of the word Aussie which is pronounced Ozzie.
The Bike Around Oz folks had several trips. I chose a two week 2200 mile trip between Sydney and Melbourne that included the Snowy Mountains, Great Ocean Road, and many small towns. For some this may not sound like too big a trip, but just to let you know the longest trip I had taken my wife on was about 600 miles through the New Mexico and Arizona mountains. Well, she read the itinerary, and being the great sport that she is, she was thrilled with the adventure. So off we went.
We arrived in Sydney on Nov 7th 2006 and spent two days getting our internal clocks adjusted. This is spring time in Australia, so mild weather ahead; they are in a drought, so no rain. As you will see/hear, neither of those was totally true. We picked up the bike on Nov 9th and head south down the coast along with a slight drizzle. It was a little stressful getting used to riding on the opposite side of the road. I would have said the wrong side, but it depends on who you are talking to. The Aussies seem not to think twice about it.
Along the way we stopped and watched a person hang gliding along some coastal cliffs. The area is called Stanwell Park and is well known for its good winds for this sport. I am not so sure, it looked a long way down to the shore, or up if one should land down there and have to climb back to the road. We stopped for a rest further south when we finally came level with the ocean and enjoyed a jaunt on the beach in a town called Coledale. The weather was a bit windy and cool, but at least the wife got to pick up a few shells and get her butt ready for the final run of the day. We spent the night at the Bay Waters Inn in Batemans Bay. Good folk and excellent food, and great local wine. BTW, Kuwait is a dry country, though we do not drink and drive, along the way at our over night stops we enjoyed the beer and wine of Australia.
The next day Nov 10th we turned west toward the Snowy Mountains and the town of Jindabyne. It was a beautiful blue sky and a wonderful ride through rolling hills and valleys. Along the way we started to meet other bikers and finally found out that we were headed to the starting town for the annual Snowy Mountain Ride. This a 256 mile loop ride to raise money for fighting childhood cancer. Definitely a worthy cause. We meet many wonderful folk who offered us advice on our trip as well as phone numbers just in case we meet with problems along the way. This was a very nice gesture, and luckily we did not need their services (even though we were riding a Harley). We elected, or my wife did, not to do the additional 256 miles for the run and instead visited local shops and wineries and a ride to Charlotte Pass, elevation 5800ft. We still had 1900 miles to go.
Nov 12th the weather turned ugly. It was rainy and cold due to a cold front passing through the area. We were heading a little higher into the mountains and were briefed that snow was possible. Not what were expecting nor prepared for. After all, this was spring time and a country having a drought? We took off when the sun broke out momentarily and made it down off the mountains. The remainder of the day rained off and on, not too bad until about 4pm. With about 70 miles to go and another climb into the mountains to our next stop, snow was again a concern as well as heavier rain. So we stopped short of our destination this day, found a motel in a town called Mt. Beauty dried out and got some Chinese food. It was great for such a small off season ski town.
Nov 13th we were headed for Castlemaine in the heart of North Central Victoria. Population 6800, this was typical of the small towns we traveled trough and stayed. All had their pubs, bakeries, general stores, etc. It was so nice not to see the rampant commercialism that we see so often in the USA. The area was rolling hills and country roads, just great for bike riding. We stayed at the Colonial Motel which was a combo B&B and Motel. A welcomed Jacuzzi tub, bottle of wine, and gourmet food at the local Railroad Hotel Pub made the long ride worth while. Of course we had to make the complimentary tour through town. This was obligatory on my part as an award to my wife who was not having the best of times sitting on that tour seat on the Harley.
We next headed for Halls Gap in the Grampian Mountains. Again the bad weather was catching up with us. Rain and cold kept us in the motel for two days. But out our backdoor to entertain us were friendly Magpies, Silver Tipped Macaws, and Wallabies. The later spent the day grazing far back at a tree line, but as the day progressed they approached the motel until they were just on the other side of a fence outside our sliding doors.
Now, up until this point we only saw a couple of kangaroos, live, more were road kill as were wombats and other strange animals from Down Under. We were advised not to ride after sundown due to all the creatures that would possibly be on the road. We paid close attention to this advice. This area is known for its wildlife, but due to fires last year caused by the drought, the animals were on the mend. We did have to stop once and watch a mother Emus and several of her chicks, I say chicks, but these guys were bigger than turkeys, crossing the road.
We departed Halls gap heading south, which down here gets colder the further you go. We picked up extra glove liners and ski masks, which came in handy. We are 1200 miles into our trip and were headed for the Great Ocean Road. This has got to be one of the best rides in the world. If you talk to anyone who has done it or any Aussie, they will tell you the same. The rugged coastline, the windy road with its switch back turns along the southern coast of Australia is beyond words. Here we finally saw Koalas, sitting contently up in the Eucalyptus trees along the highway.
We spent Nov 17th through Nov 21st traveling the southern coast through Apollo Bay, Morningside, Melbourne, and Lake Entrance. The later was a wonderful B&B called the Goat and Goose run by Richard and Joy. We needed to relax and ready ourselves for the run back to Sydney. Here the beach was beautiful, the weather had become quite mild, the scenery breathtaking and the people, well I cannot say enough, they were just wonderful. We were rewarded one evening with a visit from a Kookaburra. This, for those who do not know, is a large Kingfisher. But alas, no laugh.
Heading north we were running on good highways and made very good time. We saw Lace Monitor Lizards along the way. These guys were at least 3-4ft long and luckily swift of foot to get off the highway in time as we passed. We stayed just north of Canberra and headed into Sydney the next day. That last 100 miles was something. It must have been blowing 40mph and 100 degrees. We were taking everything off that was practical to stay cool. We had to bypass the Blue Mountains due to brush fires, which was a good decision since traffic had to be diverted.
We arrived, turned in the bike, headed for the hotel, shower, cold beer, and more of the great food that we had become accustomed to in Australia. Sadly, we returned to Kuwait on Nov 26th. Back to homemade beer and wine, a lot of Indian food, and no bike!
You can see pictures of our trip at http://picasaweb.google.com/wmhendrickson
Bill and Kathy Hendrickson, Florida & New Mexico, Kuwait
---
End of Summer Ride 2006

It was one of those three day weekends I will pull from memory and dream about years from now when I am too old for adventures of this nature....
End of Summer Ride 2006
The air was seasonably cold as we set out from Kent Ohio on our journey to the Chatauqua wine country of eastern New York Friday morning. It was 38 degrees on wake up so we waited a while for the sunshine to warm things up a little. Bidding goodbye to the" kids" (Ms. Lucy and George, my dogs) we pulled off into the mid morning traffic and began our 205 mile journey northeast to the eastern shores of Lake Erie.
The route we had charted carried us first through Sharon Pa. and past Oil City to route 62 and into the Allegheny National Forest. Our first stop was at a small roadside diner where we had a couple unspeakably awful sandwich like things they simply called "a wedge".... now with a little creativity this might have been a good thing.... but it wasn't happening. Back on the road again we were treated to spectacular views of fall colored trees against perfect blue sky.
The deeper into the forest we traveled the higher the vistas loomed up around us. In the shaded areas I could feel the cold air curling down through the trees to wrap itself around me and send an icy chill down my neck and spine... Large moss encrusted boulders lay strewn about the forested expanses like lumbering giants, and the delicate fronds of thousands of ferns bobbed their heads at us as we traveled by.
A number of hours later, we reached our destination, Westfield New York.
We passed the B&B where we had reservations to have a quick look at the town, and caught our first glimpse of Lake Erie sparkling in the late afternoon sunshine. After stopping for gas we headed back and landed in an exhausted heap at the Inn.
The flu I had been fighting for a few days kicked my butt and had me down for the count almost immediately on arrival, so after having pizza that was comparable in quality to the already mentioned "wedge" I slept restlessly through the night and awakened to a beautiful sunny fall morning.
Breakfast at the Inn was nothing to write home about, but I enjoyed the muffins they had baked. The air was warm as we pulled out on our way to Bemus Point for some sight seeing... first stop was Long Point State Park for a leg stretching walk and a few quiet moments gazing across the lake. We met a couple friendly jack russell terriers and their owner who we chatted with briefly before we continued on our way.
The restaurant we planned to stop at in Bemus Point was closed for the season, so we walked around a little and browsed some of the shops. As hunger started getting the best of us we pressed on and went across the bridge to the other side of the lake where we discovered what was to be the best meal of the trip at a place called Webbs. From the looks of the outside, I was not expecting much, but we went in and the restaurant was really amazing. The interior was almost all wood, and tastefully decorated, (even the bathroom!) The service was excellent, and the food.... two thumbs up! I had the best broiled scallops / scampies... makes me hungry thinking of them!
After our dinner we cruised around a little on the back roads... riding past miles and miles of grape vines we could smell, (even through my stuffy nose) the sweet sultry aroma of the ripened Concorde grapes the area is known for. I could see the huge purple clusters hanging on the vines waiting to be harvested. As it grew darker we found our way back to the Inn for a quiet evening. Sitting on the porch smoking we heard the furtive snapping of twigs and rustling of leaves to remind us we were not alone in the warm starlit evening.
This morning we skipped the breakfast and slept in an extra hour before beginning the "packing process" and heading on down the road. The trip home was a warm one, almost too warm at times. The coolness of the forest was actually welcoming this time. I don't think that we could have asked for better weather for a ride. We sadly pressed on homeward all said and done almost six hundred miles from start to finish. We did not take even one picture the whole time.... it was just a pleasure to decompress.!

---
Previous Stories: [ End of Summer Ride 2006 ]
---

If you have a great story about you experiences on the road we want to hear it. Please share it with others. E-mail it to us at .

Information submitted may be edited. Please do not submit advertisements disguised to be stories and do not include blatant advertising in you story. Stories that appear to be submitted for the sole purpose of advertising will not be published.

---
Copyright 1998 - 2007 © www.lets-ride.com,LLC